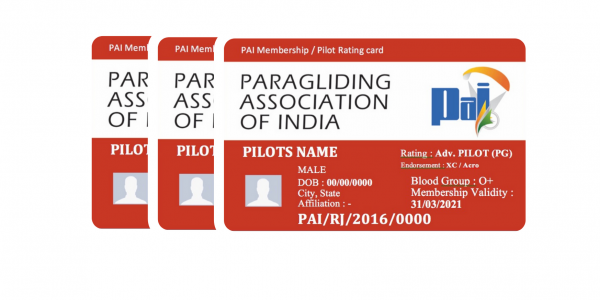 PAI membership is open to Paraglider, PPG, PPC & HG Pilots as Individual members (Annual membership basis), Non-Pilots can join as Individual Associate members, Regional or State Level (recognised by the state administration) Paragliding Associations,  Paragliding Schools and clubs and other Paragliding entities  as Associate members.
Why Become a Member ?
Paragliding as well as Powered paragliding are adventure sports involving aviation in its simplest form. Any simpler and you would classify as a bird ! It is also a fairly unregulated sport in our country. PAI endeavours to help self-regulate and promote this sport safely.
As member one has access to:
The best Adventure sport Insurance cover in the country which was developed by the PAI team with Care Insurance Ltd. This caters specifically to Paragliding incidents with inputs from pilots who faced insurance issues after their flying accidents.
PAI conducted workshops involving Reserve packing, First Aid, Cross Country Flying, Accuracy Landing.
PAI has developed the National Pilot Rating System for Paragliding,  created to certify the level of pilots proficiency through extensive tasks observed by suitable instructors.  The Rating System is available to all Solo pilots up to Sports Tandem level and in the absence of a National License, this rating holds good stead for pilots wishing to travel abroad to fly.  The Rating System includes Professional levels as well and is made available on request to State Government bodies on request to evaluate the skills of pilots operating professionally in their region.
With the involvement of State Level Associations, PAI conducts friendly competitions in Cross Country and Accuracy disciplines across the country. These events are a great learning platform for pilots wishing to move on to the International competition circuit.
Subscribe to our mailing list
STAY UP TO DATE WITH ALL THE LATEST PARAGLIDING NEWS